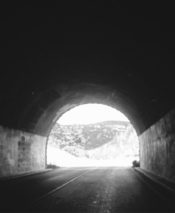 Succession Planning Is about Taking Care of Your Firm's Future
Research data has highlighted a lack in succession planning as a potential trouble spot for aging advisory businesses for several years. Firms can successfully execute an ownership transition plan that has a strategic approach to institu­tionalizing business, and create a sustainable and transferable value as a result.
I recently worked with an advisor whose firm has been expanding its ownership for the past 10 years and he summed up the succession planning process this way, "Succession planning, should be about doing what's best for the clients, the business, and protecting all of your constituencies: your clients, your employees, and your owners."  In other words, succession planning is about taking care of your firm's future.
Succession is an integral part of a broader strategic planning process that seeks to address two very important issues; how the business is going to grow and create value for clients, owners, and employees, and how it will be transitioned to a new generation of owners while preserving the reputation and legacy of the firm.
The planning for the succession of a firm's value is the cornerstone in the process and, depends upon the strength of the firm's operational processes – the skills and capabilities of staff, and their ability to achieve the firm's strategic mission. In order to create transferable value, firms must be able to demonstrate that not only is the business productive, profitable, and growing, but also that it can continue to function successfully after the founder(s) depart.
So, how do firms approach this succession challenge?  Here are four key points to consider when planning a strategy:
Strategic vision – aligning business development with ideal clients and a compelling value proposition
Human capital program – hiring, retaining, and developing talent
Operational efficiency – deploying people and technology to build an efficient and productive organization
Risk management – enhancing the value of the business by reducing risks; client retention, client demographic/con­centration, key employee retention
I suggest using the following framework and checklist to guide to your succession planning process: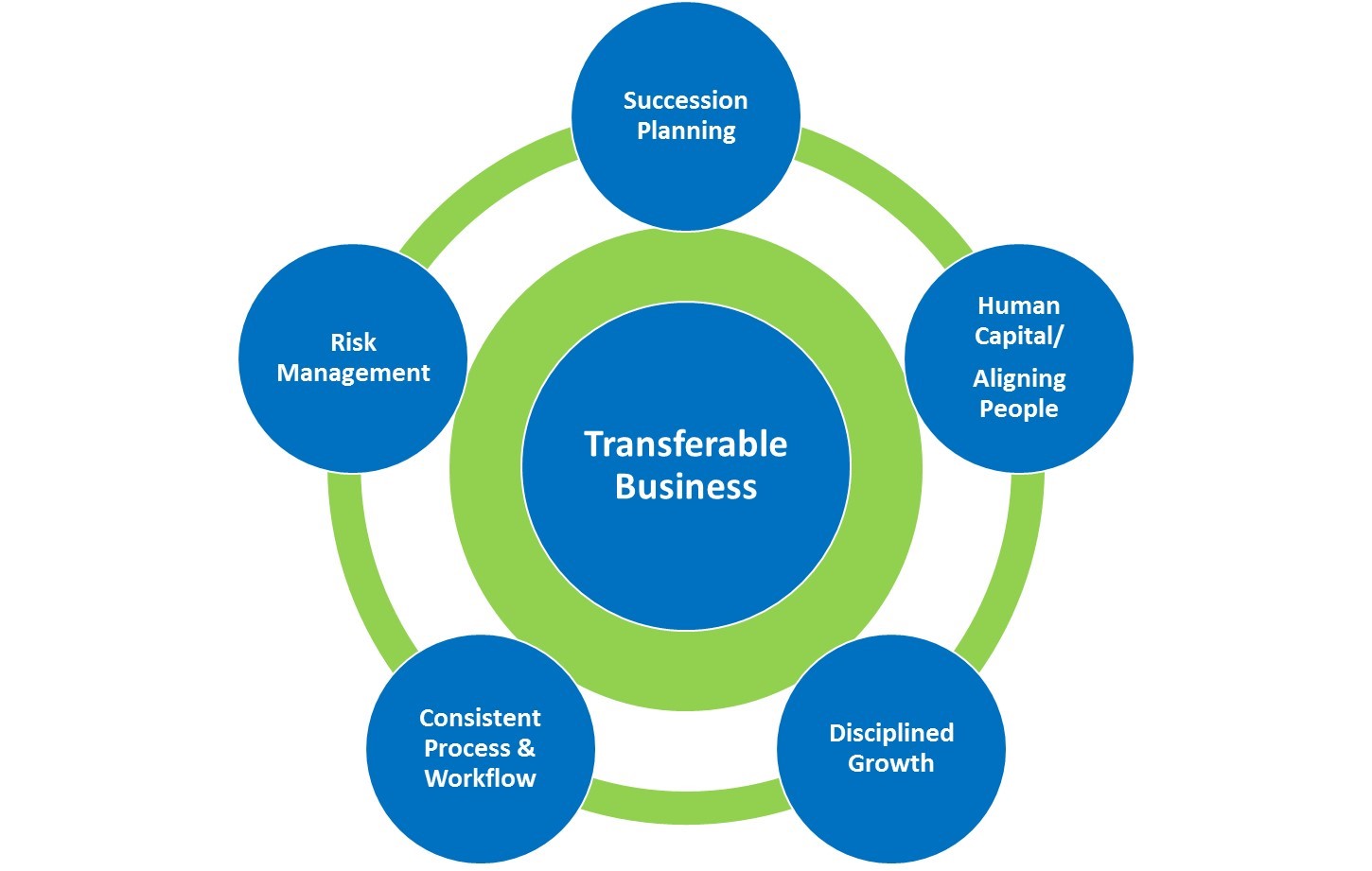 Succession Planning Checklist
Set a clear vision and strategy for your business by creating a formal 3-5 year business plan.
Benchmarking your business performance year over year.
Regularly communicate the firm's vision and strategy.
Standardize the client experience and systematize processes and workflows.
Have a clear defined process for firm governance and decision-making by designing and executing the right organizational structure.
Align your human capital practices with the business plan:

Recruit proactively for key talent – not reactively
Establish competitive compensation plans
Provide regular employee performance feedback
Focus on employee development and career paths by formalize training and educational programs
Human Capital Practices and Succession Planning
Your human capital practices are an essential element of succession planning, as most successions are managed as a phased out exit: Phase 1, the owner backs away from the daily operations; Phase 2, the owner delegates management responsibilities for the firm and clients; Phase 3, the owner sells the ownership stake. Firms must have the right people in place with suitable skills at the correct time to make the succession planning process efficient and effective.
I recommend assessing the state of your human capital and what you're doing now to take care of your future talent. What is the average age of your employees? What percentage of your employee base is retiring within the next five years?  What is your current process for identifying employees with a high potential to take on leadership roles?  How do you identify internal talent that may be ready to step into key roles today?  How do you ensure that you are training the right individuals for the leadership roles and measuring them accordingly?  The answers to these questions will help to succinctly assess the state of your human capital for possible in-house succession candidates.
In order to make succession planning efficient and effective when seeking an outside partner, firms need to improve their owner candidate development pro­cesses, with a particular focus on the core competencies of successful partners.
Because there is no substitute for observing and working with people over time to gauge their cultural and leadership qualifications, you should try to determine if the potential succession partner has the characteristics to be a future leader, and provide them with opportunities to see how they will respond to different events and situations. Owners not only have to be able to grow revenue, bring in new clients and are outstanding advisers; they need to have the ability to lead and to manage.
The character and culture fit of a potential succession partner —like shared vision and leadership—is an important criterion to consider as well. Current owners will likely have to work side-by-side with the new owners for years, perhaps even decades.  People can make their numbers in terms of revenue, and be very technically competent, but if they don't mesh with your culture it could cause serious problems in your firm's future.
Here is a set of skills that I suggest using as criteria for partner candidates:
Leadership and Management Ability
Cultural Fit
Shared Firm Core Values and Vision
Tenure With Firm
Develop and Mentor Staff
Risk Management
Furthermore, I suggest developing a solid understanding of the most significant challenges your firm and the advisory industry is likely to face over the next 5 to 10 years (fee pressures, competition from Robo Advisors, age of the client base, etc.), and the skills and experiences the future partners will need to lead the company past these hurdles.  I recommend fighting the tendency to think the answer is to find a younger version of you in the next generation of leaders.  Leadership succession requires looking "through the windshield" rather than "in the rear-view mirror" to understand the skills required for the next generation of leaders.  Investing in a credible forecast about the future makes it possible to understand the skills and capabilities that will be needed to continue the success of your firm.
Building a Foundation for Effective Succession Planning
Many owners see the value of building a succession planning strategy, but simply don't know where to start.  The majority of the industry is in a state of paralysis in terms of getting started on a succession plan.  Those that have a plan tend to stagnate and delay moving forward.  So what are the reasons why so many owners are doing basically nothing?  First, there is a, "if it's not broke why fix it" mentality – the business model is successful and most firm owners are happy with their results.  There isn't anything pushing them to take on the challenge of making a plan and changing.  Second, most firm owners, as they near retirement do not know what else they would do with their time if they didn't work. Giving up the corner office seems too final and daunting, and the fear of what comes next in life is holding them back from moving forward with a plan.  Third is the issue of giving up control and finding a suitable successor.  In most cases the answer to finding a suitable successor involves hiring more than one person to replace what originally took one person to build.
Be prepared as you move forward with a plan to revisit and revise along the way. Confidence in the sustainability of a suc­cession plan drops after it is implemented so don't be surprised if you have to revisit and revise your plan on a regular basis as circumstances change. One firm I spoke with said that they have implemented several transitions over several years, and only now are they beginning to feel like their succession plan is flexible and mature enough to suit any situation they may face in the future.
Kelli Cruz is a Financial Planning columnist and the founder of Cruz Consulting Group in San Francisco. Email her at kelli@cruzconsultinggroup.com or follow her on Twitter at @KelliCruzSF.
From Financial Planning